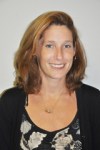 Tracy Abarbanel Ph.D., C. Psych.
Psychologist
Tracy completed her Ph.D. at the University of Ottawa in Clinical Psychology.
Tracy works with children, adolescents, adults, couples, and families experiencing a wide range of concerns. She has a special interest in working with families, including those with young children, adolescents, as well as adult children. Addressing a wide range of presenting difficulties, Tracy looks at how an individual's inner struggles and emotions affect social interactions in families, as well as how these problems can be modified and positively changed through family interactions.
Tracy is trained in a variety of different therapeutic approaches, including emotion-focused, experiential, cognitive-behaviour, and psychodynamic therapies. She believes that the success of therapy depends on the fit between her and the clients, as well as on the clients' comfort with her approach. Tracy's primary therapeutic approaches include emotion-focused an experiential, however, she is flexible and tries to meet her clients' needs in a best-fit manner.