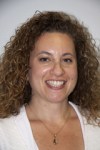 Orly Rumstein McKean - Ph.D., C. Psych.
Psychologist
Orly joined the Ottawa Couple and Family Institute after completing her Ph.D. in Clinical Psychology at the University of Ottawa in December 2004. In June 2006, Orly became a Registered Psychologist with the College of Psychologists of Ontario.
Orly focuses her practice on working with adult individuals and couples who are struggling with emotional and relational difficulties. She works effectively with individuals experiencing a range of psychological problems including depression, anxiety, trauma, poor self-esteem, grief, and adult developmental transitions. Her strengths as a therapist include the ability to connect with clients, understand their difficulties, and help them set appropriate goals that lead to improved mood and functioning. She is well versed in a range of psychotherapeutic modalities including Emotion Focused Therapy (EFT), as well as interpersonal, experiential, and cognitive-behavioural approaches. This is a reflection of her comfort and proficiency in working with clients on emotional, cognitive, and behavioural levels. It also is an indication of the flexibility with which Orly can work to implement the most appropriate treatment plan for each of her clients.
Consistent with the research, Orly prioritizes the therapeutic relationship as essential for helping clients create change. A warm, compassionate, therapeutic relationship creates the context for working collaboratively with each client to identify their unique needs and goals. In addition to the relationship, Orly knows that a grounding in empirical research and literature is a necessary component to effective psychological services. To stay current, Orly maintains memberships in local, provincial and national professional organizations. She participates in continuing education programs through conferences and workshops, and remains aware and knowledgeable regarding recent developments in the field of psychology. Orly's doctoral research was focused on the reasons people decide to seek and stay in psychotherapy. This work will lead to a number of conference presentations and publications in professional journals.
In addition to private practice, Orly has worked in both community (i.e., Centre for Psychological Services at the University of Ottawa, Marital and Family Therapy Clinic), and hospital (i.e., Royal Ottawa Hospital, Nova Scotia Hospital, Elizabeth-Bruyere Centre) settings. These experiences included, but were not limited to working with clients from geriatric, palliative, and psychiatric populations. These varied experiences have contributed to Orly's expertise in helping clients with a range of psychological difficulties and levels of distress.