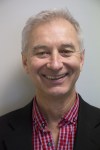 Normand Gingras - Ph.D., C. Psych.
psychologue
Normand Gingras a reçu son doctorat en psychologie clinique de l'Université d'Ottawa en juin 2000 et travaille à l'OCFI depuis. Depuis ses études, Normand a développé une expertise en thérapie centrée sur les émotions ou TCÉ, « Emotionally Focused Therapy» appliquée aux couples et aux individus, en particulier au traitement des traumatismes. Il supervise la thérapie de couple et individuelle aux doctorants de l'Université du Québec en Outaouais. Il est agréé comme thérapeute, superviseur et formateur au sein de l'ICEEFT et offre des formations en français au Québec, en Suisse et en France. Il offre de la supervision, en personne ou en mode télésupervision, aux thérapeutes aussi éloignés que l'Europe qui désirent apprendre et améliorer leurs habiletés en TCÉ. On le connaît pour son style d'enseignement et de supervision ouvert, chaleureux et bienveillant. Avant de se lancer en psychologie, Normand a oeuvré pendant 13 ans au sein des Forces canadiennes à titre d'officier d'entretien des aéronefs et détient un baccalauréat en génie électrique du Collège Militaire Royal. Il est membre de l'Ordre des psychologues de l'Ontario et du Québec.
Normand received his doctorate in clinical psychology from the University of Ottawa in June 2000 and has since worked at OCFI. Following his graduation, Normand has devoted himself to working with distressed couples and individuals using Emotionally Focused Therapy and on the treatment of trauma. He supervises individual and couples therapy with graduate students in the doctoral clinical psychology program of the University du Québec en Outaouais. He is a certified therapist, supervisor and trainer with ICEEFT and teaches EFT mostly in French in Québec, Switzerland and France. He offers in-person or long distance supervision to therapists from as far as Europe wishing to learn or improve their EFT skills. Normand is known for his warm, safe, and open teaching and supervision style. Prior to his studies in psychology, Normand worked as an aircraft maintenance officer within the Canadian Forces and holds an Electrical Engineering degree from the Royal Military College. He is a member of the College of Psychologists of Ontario and of l'Ordre des psychologues du Québec.